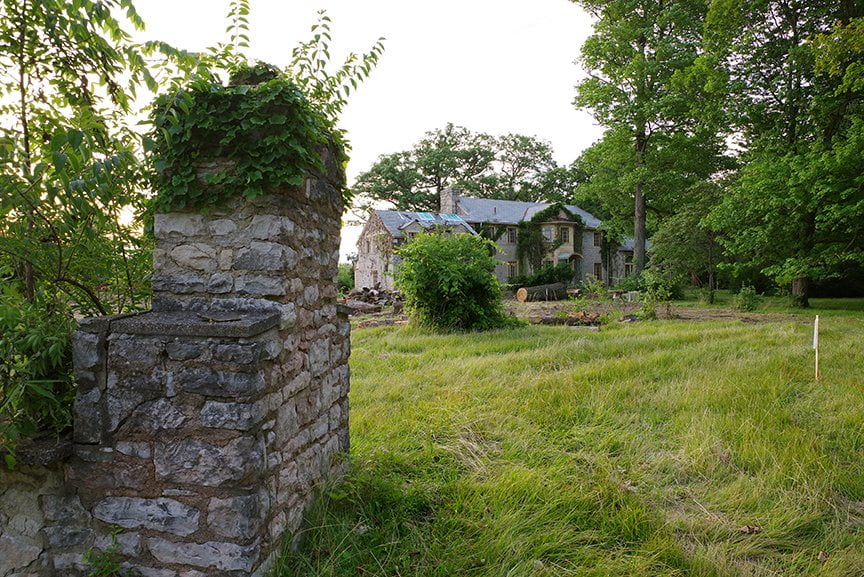 So this is another urban exploration post that I feel helps elaborate the desolation, despair and urgency associated with many of the sites I discover. Always hoping to make each location another page in my thematic view of the world.
So this house was discovered in 2017. It had sat quietly in a thick grove of trees on a corner of a busy intersection. Only the stone wall hinted at the structure hidden behind all this greenery. Then suddenly as I was traveling past this intersection one day, the trees disappeared. In a clearing sat this beautiful stone house along with some other buildings. Seeing the sudden activity, I knew the clock was ticking. I ran home and grabbed my camera. In spite of one tiny "No Trespassing" sign, I knew no one would care at this point. There were markings all over with CFD spray painted. I had a hunch that this was referencing the fire department. The pace to document and utilize this wonderful home just increased!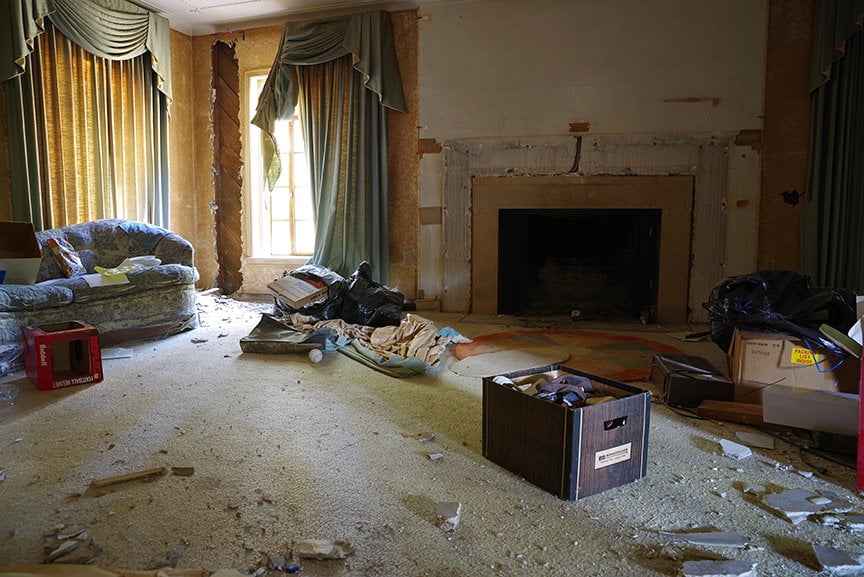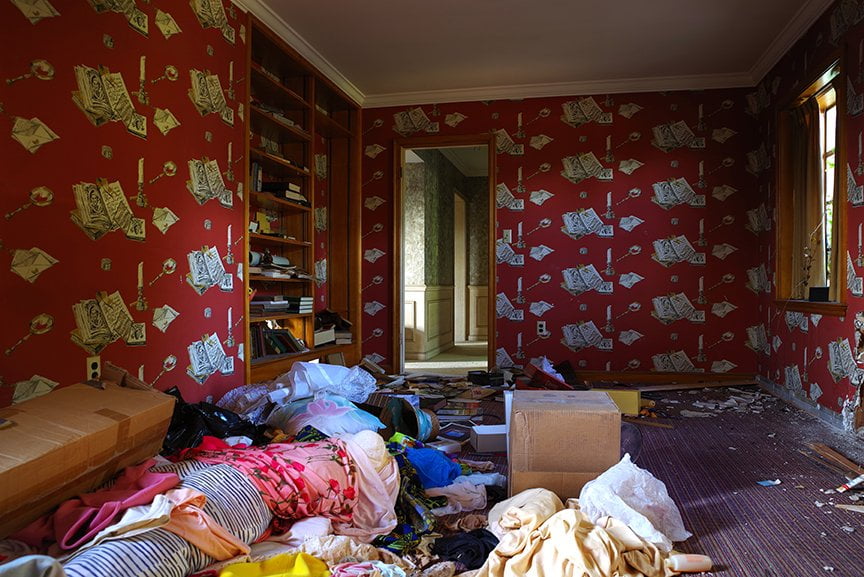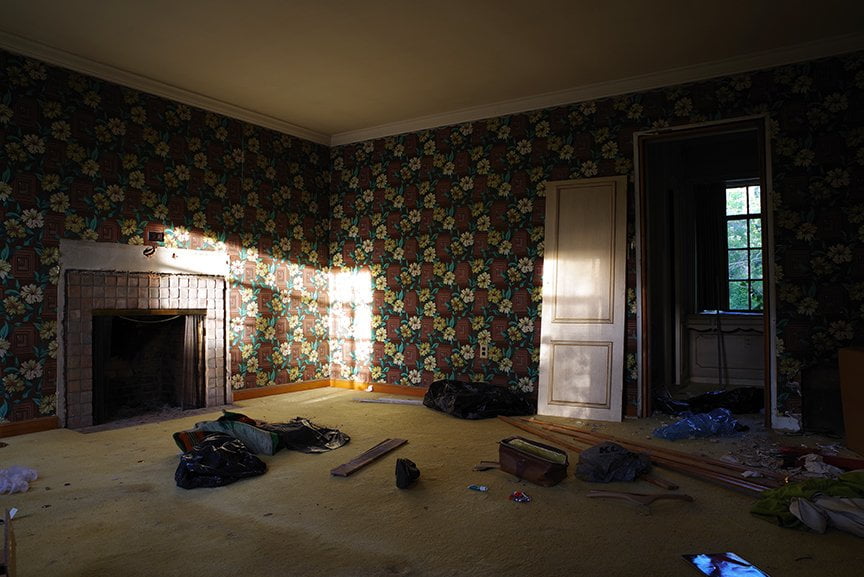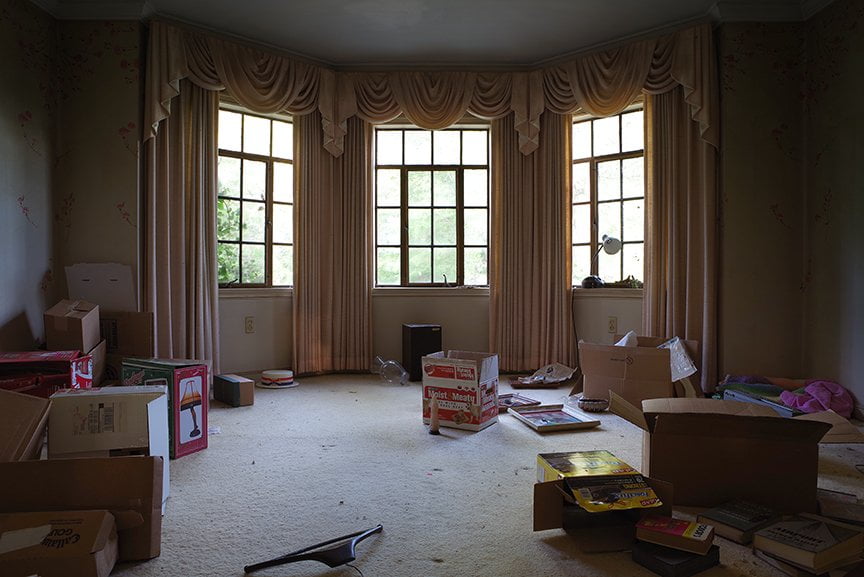 The place was truly elegant yet dated. Beautiful draperies still hung in many of the rooms. Some furniture remained as did lots of other belongings. I even discovered brand new dress shirts in their original cellophane bags from a Columbus department store lost long ago.
There was a library, a study, a terrific sun room with big arched windows and even maid's quarters over the garage. It was spectacular! There were also signs of someone ripping through the walls with a crow bar here and there. It reinforced my Fire Department idea. They were looking into the structure for dangerous things that could make a fire-fighting exercise dangerous. In spite of these bits of early demolition there was lots of carpeting and bright wallpaper. In each bathroom had a unique etched scene on the shower glass – swans here, a sailboat there. It was a veritable time machine.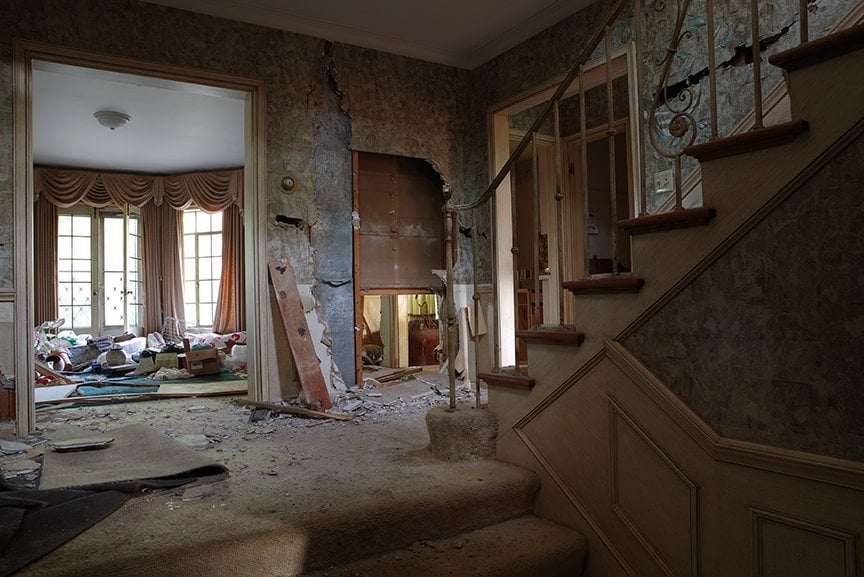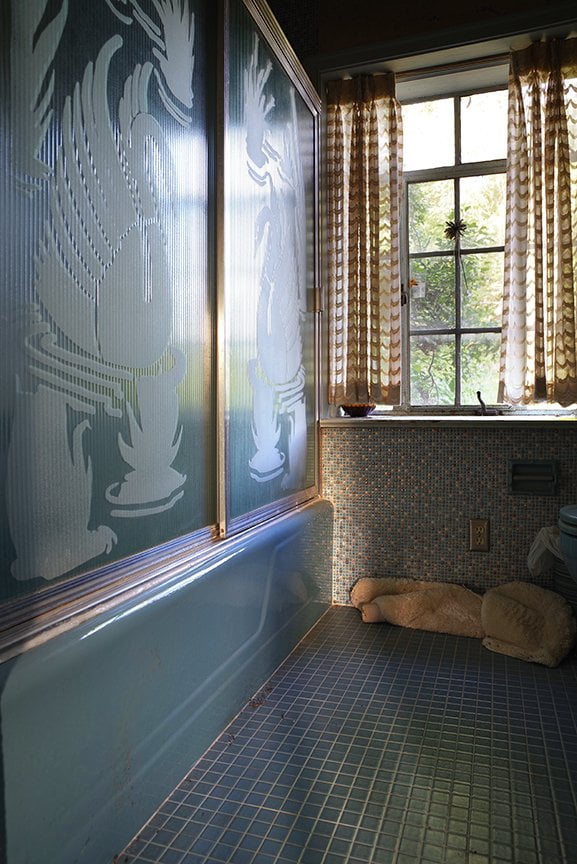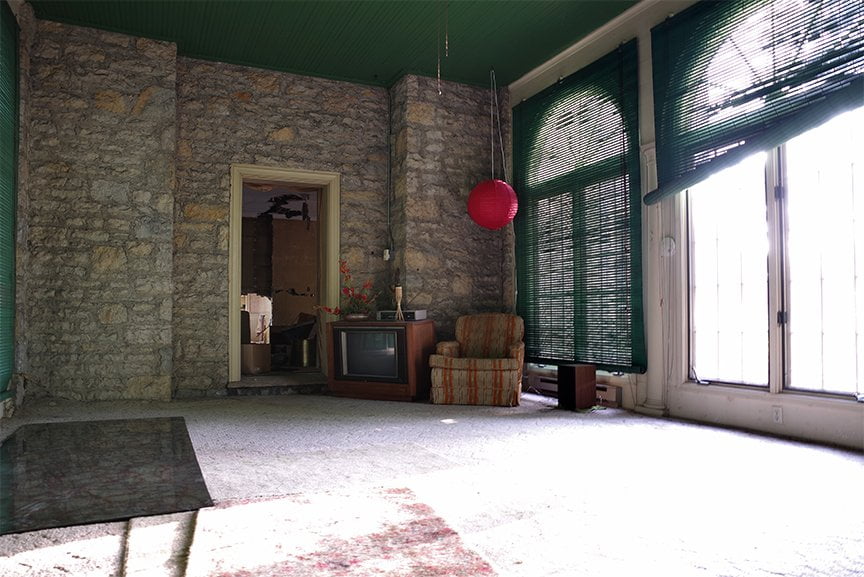 And that was just the main house. On this same plot of land was a in-ground pool hidden in a dense grove of trees. Only the pool cover gave away its existence. Then there was a barn with stables and a pool-side party house. All of these places were filled with items from the previous owners. While exploring, a group of people walked into the yard from some houses situated behind the property. They also wanted to see what they had lived beside for so many years. It turns out that these neighbors were actually fighting various companies to keep them from building apartments on the parcel. They eventually lost their battle.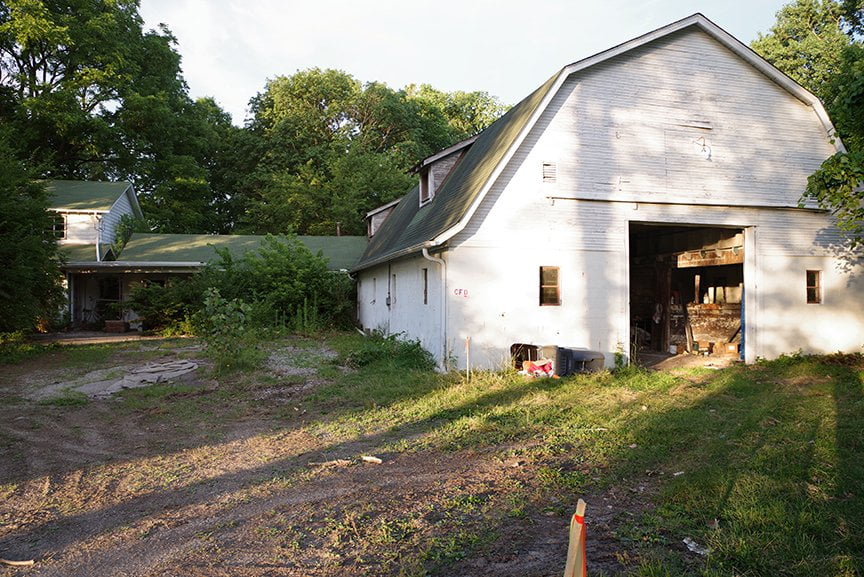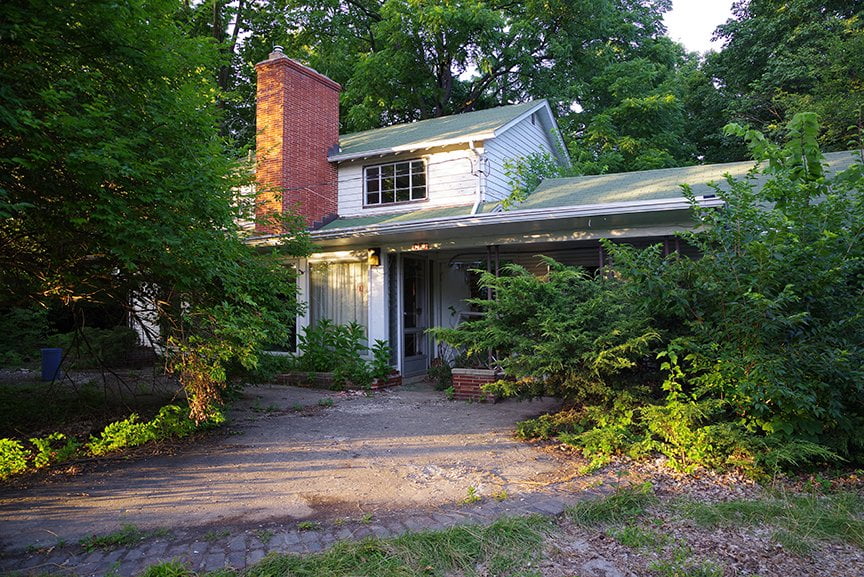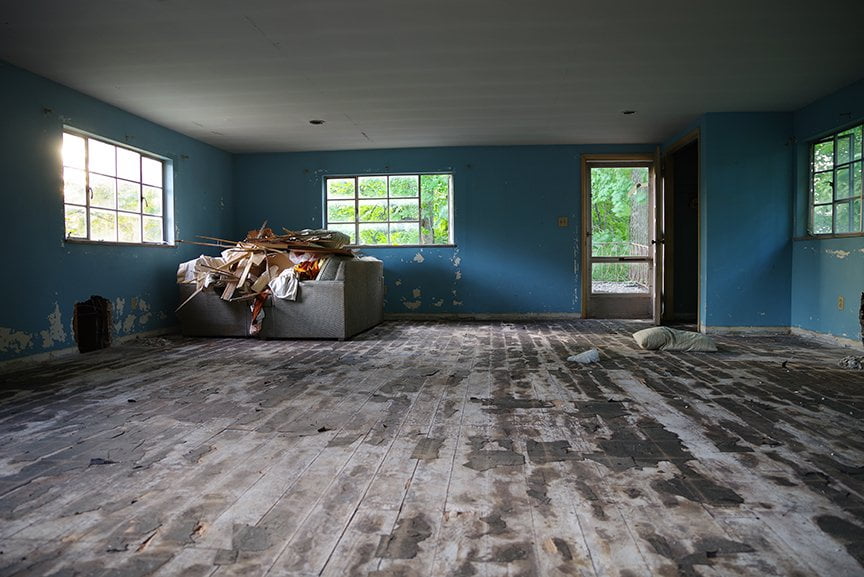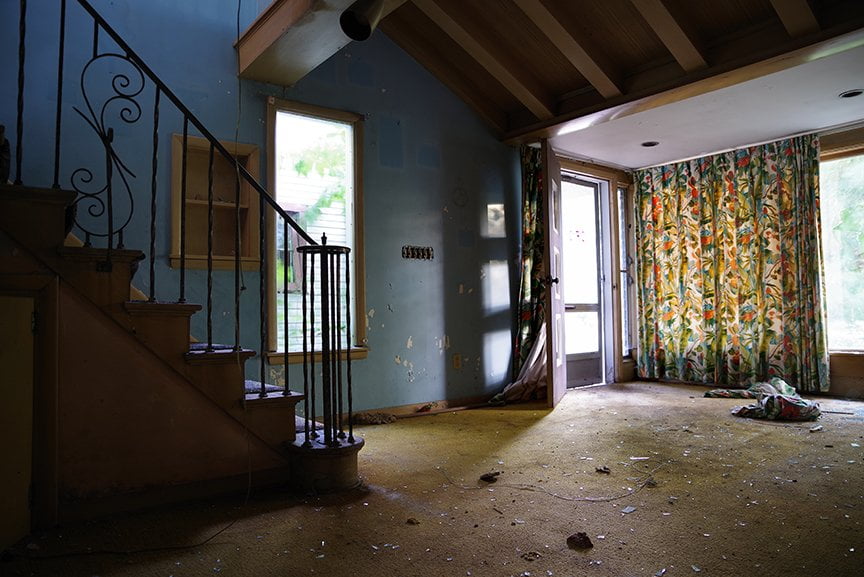 I did some research on the property and it turns out to be originally built by a doctor from Ohio State University back in 1939. When he passed away, his wife remarried. She still remained in the house with her second husband. Eventually both died and none of the surviving children wanted the home. It languished on the housing market for several years until a developer bought it. Below is a map from the city showing the size of the property. The house is in the middle with the barn at lower right in the yellow edged area.
Then the demolition began. Not more than 2 weeks after I noticed the clear cutting, the house was set ablaze. I managed to make it to the place shortly after it was burned. The final images are from the day after. There was a man sitting in a truck watching for recurrence of the flames but he didn't mind me shooting the scene. I could still feel the heat even though it was raining that day. It seemed am appropriately somber day.
Luckily I was able to also gain access with a model before the action began. Those images will be posted at some point down the line. This was my first experience seeing an abandonment go from discovery to destruction in such short order. I still think of the history behind the place and reflect on how temporary our world remains – at least the world of human existence.